Arthur Elementary K-8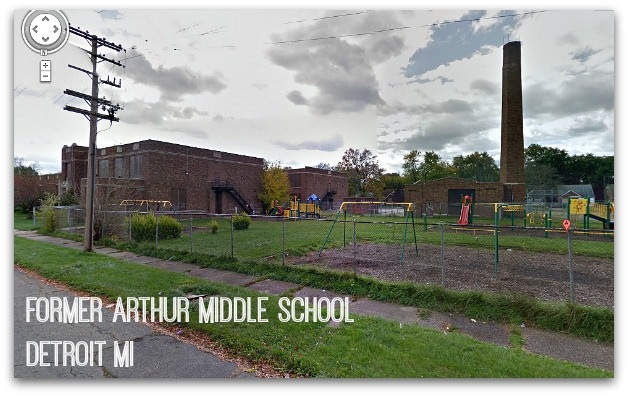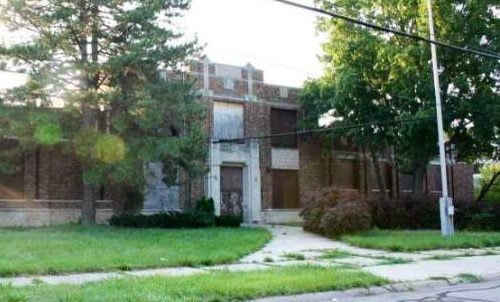 Clara B. Arthur Elementary School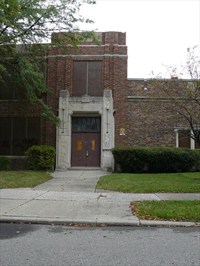 10125 King Richard Street
Detroit, Michigan
Aaron H. Gould designed the Clara B. Arthur Elementary School. The school was built in 1930 and was closed in 2005. During the time that the school was open it was an elementary school, a middle school and a defense shelter. Unfortunately it is now boarded up and is on the market to be sold by the DPS. The school was named after Clara B. Arthur who was a suffragist in the Detroit area during the 1800's and early 1900's. In addition to women's rights, she also fought to improve the lives of children. She was known as "a great Detroiter, a great American and a great woman."
I want to thank Andy Baetz, Bruce Getzan, Kerry Krause and Grant Mac Donald for all of their help in pulling together the names of our classmates and teachers. I could never have done this on my own. If anyone sees a misspelling, correction or addition that they would like me to make, please contact me via my classmate profile on denby64.com or my regular email, karin.fisch2@gmail.com
**

In Memory

Attended 50th Reunion
♦ Graduated from Denby
January Graduating Class of 1964
Dennis Barney ♦
Judy Bell (French) ♦
Adele Chatelin ♦
Michele Frola (Jewell) ♦
Michael Honn ♦
William Jackson ♦ **
Kathy Cusimano ♦**
Ann Markert ♦
Anne McCall ♦**
Mary O'Connor ♦
Susan Richards (VanHollebeke) ♦
Carol Tuchel ♦
Michael Verhaege
Kathy Wendland ♦
June Graduating Class of 1964
David Albertson
Andy Baetz

♦

Jack Best
Joyce Blomke
Jim Brady
Ron Brooks
Greg Cain ♦
Douglas Casper
Robert Carberry
Diane Dickerson (Ellman) ♦
Karin Ekholm (Fisch) ♦
Rick Embree
Sharon Fields (Winter) ♦
Sandi Foot ♦
Sandy Garden (Willoughby)
♦

**
Bruce Getzan ♦
Gary Goodger
Jerome Gugala
Larry Hebert ♦
Michael Henderson
Sally Hilliker
Susan Klida ♦
Kerry Krause (Albertson) ♦
Carolyn Liblang (Blowers) ♦
Dorothy Loeweke ♦
Linda Lyle (Melemed) ♦
Grant Mac Donald ♦
Jean Markert (Kropf) ♦
Carol Melton ♦
Michael Mariscotti
Bernie Mueller
Robert Muhme
James Potter ♦
Victoria Principle
Lorna Quinlan ♦
Dennis Rossi ♦
Christine Sangster Williams ♦
Richard Spence

♦
Bob Seeley ♦
Judy Troyer ♦
Frank VonKampen
Tom Walker ♦
Susan Worzniac
Jerry Zens ♦
Carol Ziske ♦
Note:
Not all went on to Denby but many did.
Can you add a name and/or correct a spelling?
Clara B. Arthur Elementary School

Mrs. Lucille Wareham - Principal

Mrs. Ethel Gordon - Assistant Principal

Grade/Class
Teacher
Teacher
Kindergarden
Di Zazzo
Lancaster
1st Grade
Miss Recor
Alice Massic
2nd Grade
Cathline Houle
Helen Saeger
3rd Grade
Ethel Hoffmeyer
4th Grade
Germmaine Dorr
5th Grade
Dr. Anne Hughes
Smith
6th Grade
Mrs. Irma Flatt
7th Grade
Miss Ruth Randall
8th Grade
Mrs. Hanratty
PE Teacher
Mr. Herman Straight
Miss Head
Library
Miss Butsui
Auditorium
Evelyn Holke

Social Studies

Music

Science

Mr. Leon Zarski

Miss Snooks

Mrs. Gray

Mr. Sabella
April, 2016 - Jim Potter, Kerry Albertson Krause and Andy Batez met for lunch and had their own mini reunion. They are hoping to plan another lunch date and perhaps more classmates can join them!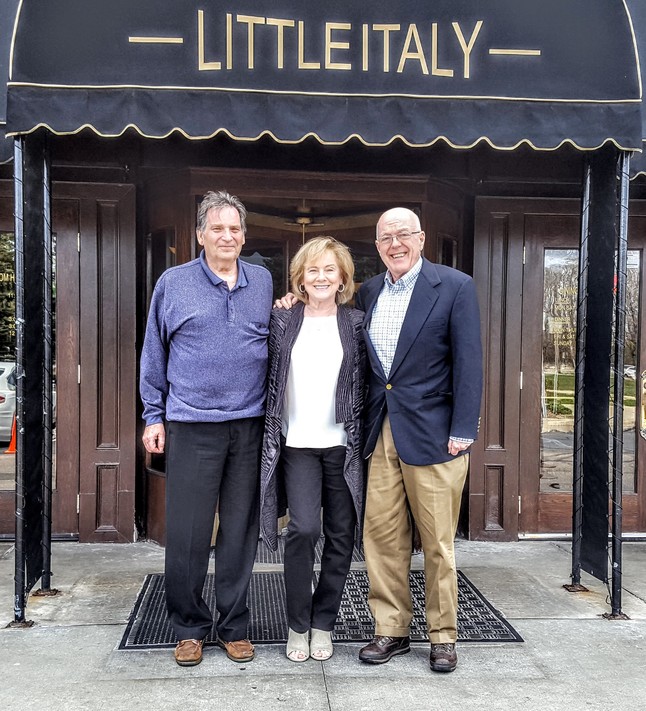 This photo was taken in front of the King Richard entrance to Arthur Elementary, sometime in the 50's. The lady on the far right is Mrs. Lucille E. Wareham, Principal and the lady next to her is Mrs. Ethel Gordon, Assistant Principal. Does anyone recognize the other two women? Photo was supplied by Ron DeRiemacker, a member of the class of 1956 or 1957.